Click the image for a larger scan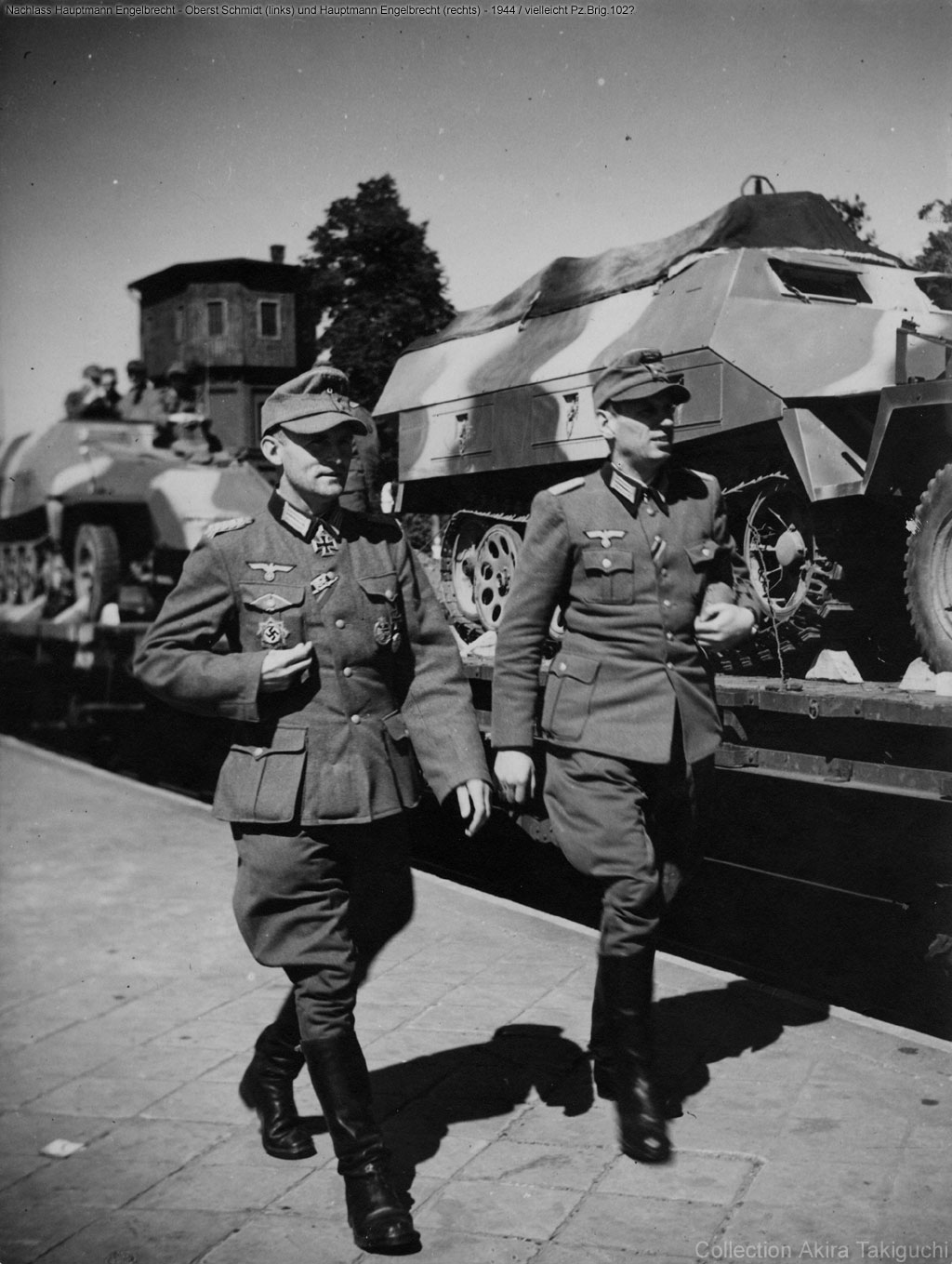 Sinding is a small town in the Kindom of Denmark. In February 1944, a fresh-baked Leutnant Engelbrecht came to this town. He was appointed to the commander of 1.Kompanie, Panzer-Grenadier-Ersatz-Bataillon 3 under 233.Reserve-Panzer-Division. Having spent a happy period until August 1944, he was promoted to Oberleutnant and was transferred to Panzeer-Grenadier-Bataillon (gep.) 102 (Tessin says 2102, but period photo of a grave marker says 102) under Panzerbrigade 102 to be thrown into fierce battle in Poland.
Oberst Schmidt and Oberleutnant Engelbrecht walk beside a row of brand-new SPWs ready for shipment on train. Oberst (looks like a Major in the photo) Schmidt has earned Knight's Cross, German Cross in Gold. He has even a Blood order ribbon! A really nicely decorated soldier. Two SPWs await order in front of a house. In this picture Oberst Schmidt stands with General Fremerey, who was the commander of 233.Reserve-Panzer-Division. Portrait of the General during the maneuver. A rarely seen SPW with flamethrower during the maneuver. A Panther Ausf. A from the Panzerbrigade 102 in action!
Then and Now - Mr. Torp from Denmark kindly made a trip to Sinding for me. My ultimate thanks, Claus! Almost identical scene after 58 years, just without Swastika and the road (route 18) is paved better. A nicely rebuilt house but the adjacent house remains more similar to 1944.
In his photo album, he writes Sinding - entrance to a Paradise! This is a colorful farewell presentation document from NCOs. This document is bound in two large, heavy wooden frames, both engraved nicely with names and even with the Feldpostnummer. It must really have been a paradise to live there.
Related Forum Threads
Your contribution is most welcome.